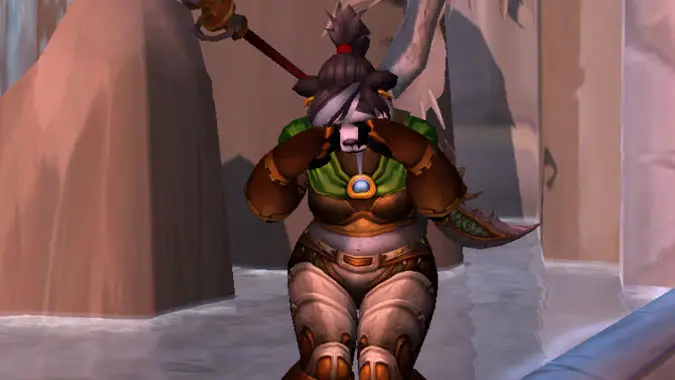 Over on Blizzard Watch, a friend of the
Hunting Party Podcast
and founder of AskMrRobot, Vee "Zoopercat", wrote
about an interesting phenomenon
she's been observing. This has been happening forever, as far as I can tell. If you don't want to click the link and read it all yourself, she made a little poll that went like this:
As you can see, people's responses where drastically different if she said "according to sims, X talent does slightly better or slightly worse depending on the situations, than when she said "Top guides all pick Y talent" or "top players all use Y talent".
Of course, this isn't a super thorough experiment, but informally, it gives a pretty great insight into the mindset of WoW players. I'm actually a bit surprised that even at the worst, only 51% of people said it isn't acceptable to keep using the talent.
Anyhow, the point of the article, I think, was to say we shouldn't discourage customization. Instead of talking about that, however, I want to talk about something that continually bugs me on hunter forums all over the internet.

The Best Pet for the DPS
I like to keep an eye on the battle.net
hunter forums
fairly often, and I occasionally browse the hunter forums at
Elitist Jerks
and
MMO-Champion
, I don't post very often, but occasionally I'll see a hunter who has posted his logs, and is looking for help, and I'll jump in with whatever I can discern from the logs.
Something that continues to happen is most people will respond with "you should be using [this talent]", or worse "You should be using [trinket/weapon/whatever]". In the case of the latter, perhaps it has happened at some point in time where someone had tons of extra gear they'd just been passing on because they didn't know which to wear. However, in the vast majority of cases, if someone is wearing a bad trinket, it's because it's the only one they have.
In the former case, "You should be using talent X": I have not once, in years and years of hanging out on those forums, seen someone who was otherwise playing perfectly, and just needed to change a talent to do as well as everyone else. Yes, using the optimal talents is going to give you the highest potential for dps, but if doing more dps is your goal, 99% of the time, it just comes down to playing better: increasing your your APM; managing focus better so you can use more signature abilities; switching targets efficiently; minimizing down-time; stacking CDs; etc...

The Case for Changing Talents
There are times when I think people should change talents. The thing is, some talents are just easier than others. Let's take the last Hunter Talent tier as an example. We've got
Exotic Munitions
, which is almost completely passive;
Focusing Shot
, which is completely active and includes a movement restriction; and
Lone Wolf
, which is technically passive, but has a hidden active component, in that you lose your pet damage, which had been passive damage (I wrote about
the skill cap of Lone Wolf here
, back in the WoD beta), and your damage is now 91.7% based on performing your rotation correctly (the other 8.3% comes from autoshots).
If we take a typical, heroic geared MM hunter with an average upgraded Legendary Ring (things get too extreme once we get into fully upgraded mythic gear with a fully upgraded ring), and run some sims on a patchwerk style fight, between the 3 talents, I get results like this:
| | |
| --- | --- |
| Exotic Munitions w/ Powershot | 78,572 DPS |
| Focusing Shot w/ Barrage | 88,850 DPS |
| Lone Wolf w/ Powershot | 87,236 DPS |
You may look at that, see Focusing Shot doing the most dps, and choose that. Focusing Shot, for a patchwerk style fight tends to be easier than Lone Wolf/Exotic Munitions for most players, because you don't have to plan ahead your focus management as much. This, in turn, allows you to fairly easily keep Chim Shot on CD, and does not punish you as much if you spam too many Aimed Shots and run out of focus (as it only takes you about 2.5 seconds to nearly refill your focus bar). However, as movement components are added in to fights, Focusing Shot becomes more and more difficult to use well, as if you're out of focus but can't stand still for a few seconds, your dps goes down to basically 0, until you can stop and build focus again.
In HFC, often that means Lone Wolf is significantly better, as, for most hunters, managing focus is easier than managing movement (which sometimes isn't even possible, if your raid leader assigns you a lot of special hunter tasks).
An Extreme Example of Talent Choices
There's one talent I listed above that is sim'ing about 12% worse than the other two talents: Exotic Munitions. EM has been the lowest dps option for that tier all expansion, being relegated to PvP only or hunter jokes. However, there are occasions when it might be the better choice for a hunter. For the sake of this argument, I'll just compare it to Lone Wolf, as that is by far the most recommended talent from this tier.
Let's say we have a hunter who is only performing their rotation 50% optimally (if you've been in LFR farming Valor over the last few weeks, you've likely seen there are a lot of players out there who are only doing about 50% of what their dps might sim at). What I mean by 50% optimally is they're casting Chim Shot about half as often as they should be, they have a lot of down time between abilities, they're capping focus at various points, Sniper training has a 40-50% up-time, etc.
If they're in the gear I used for the simulations above, with Lone Wolf, they'll still get all the damage from Auto-shot, about 7241 dps, but only 50% of the rest of their dps, 39,998 dps, giving them a total of 47,239 dps.
If, on the other hand, they take Exotic Munitions, all they have to do to get the benefit from that is keep their autoshot going, and keep their pet on assist, so they'll passively have 16,702 dps, plus half of the rest of their simmed dps (30,935 dps), giving them a total of 47,637 dps, slightly higher than the Lone Wolf choice.
Putting it in Perspective
So for this imaginary player that's playing 50% optimally, if they didn't want to improve their rotation or focus management at all, they would do slightly better by choosing a sub-optimal but passive Talent. That's why I don't ever think it's a good idea, when someone comes to you asking for help, to tell them to use talent X, or talent Y. That may be the best talent for the best players, but if you don't know how good/efficient the player asking for help is, you have no way of knowing which talent they should switch to for more dps. (I should note here, that EM is perhaps the most extreme example hunters have. No other talent sims 12% below the other talents in its tier.)
If instead, you gave them help with improving their rotation, their focus management, their movement management, etc., they'll have a much, much greater chance of improving, and likely start seeing higher dps almost immediately.